Authentic hoodies for a donation to GIDNA: media platform TyKyiv and Future for Ukraine announce the winners of the charity event
09.05.2023
At the end of April, the media platform TyKyiv and FFU announced a charity drawing for a hoodie with a motanka doll on it. Anyone who donated UAH 100 or more to GIDNA, a project of free counseling for women who had experienced sexual violence by the russian military, could participate in the campaign.
In April, the media platform TyKyiv, which tells about interesting events and explores the history of the Ukrainian capital, announced the Creative People project. As part of the project, talented Kyiv artists created symbolic illustrations that were printed on hoodies. Three of these items of clothing were raffled off among those willing to support GIDNA.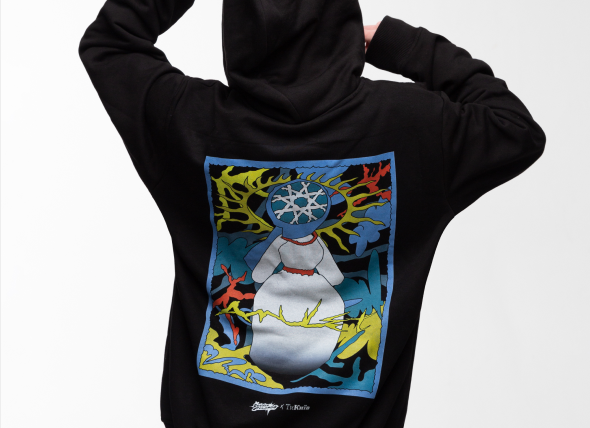 "The goal of the project is to draw attention to the urgent needs of Ukrainians: helping women who have suffered from violence by the russian military, helping children and other segments of the population," the project authors say.
The first artwork created by the Feldman sisters for the project was a hoodie depicting a motanka doll, a sacred amulet of the human soul and destiny, a symbol of femininity and Ukrainian spirituality. The winners of the draw from now on will be able to wear a stylish and authentic hoodie with a Ukrainian soul. They are Anastasia Shevchenko, Alena Nikitina, and Yaryna Kozel.
Olena Nikolayenko, General Manager FFU Poland, Head of Strategy and Development FFU, says that the Creative People project is another way to emphasize the importance of the initiative.
"We are trying to encourage women not to be silent and their loved ones to provide timely support and care," says Olena. — "To draw attention to this problem, we are looking for various creative ways. The Creative People project is perfect for this purpose: it helps Ukrainian society see another side of the war through charitable activity and perfectly reflects the trend for Ukrainian authenticity."
All donations raised during the campaign will be used to organize counseling for women survivors of violence, as well as supervision for psychotherapists, which are extremely important in dealing with the trauma of violence.