Results of 2022 Future for Ukraine and "Future of Ukraine"
18.01.2023
2022 has become a year of trials for every Ukrainian, and our team is no exception. Every day we faced different challenges and continued to do our work. Therefore, we are happy that all our efforts, ideas, and talents found their embodiment in projects to help Ukrainians.
We are proud of our powerful team!
What exactly was done during this time?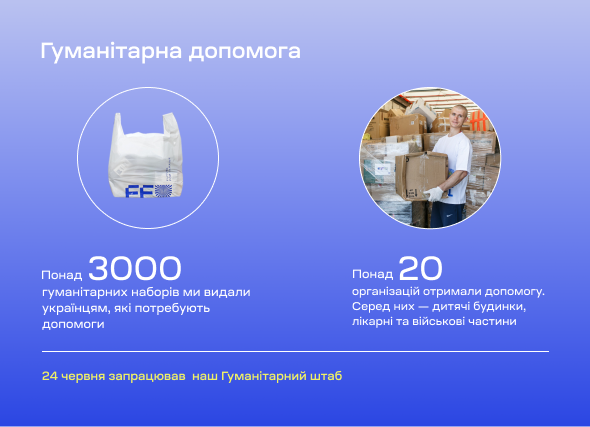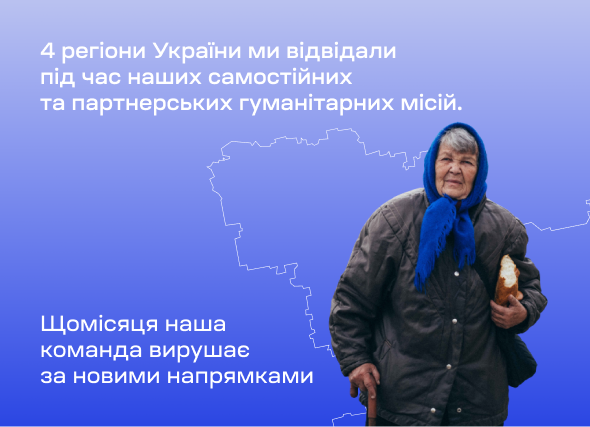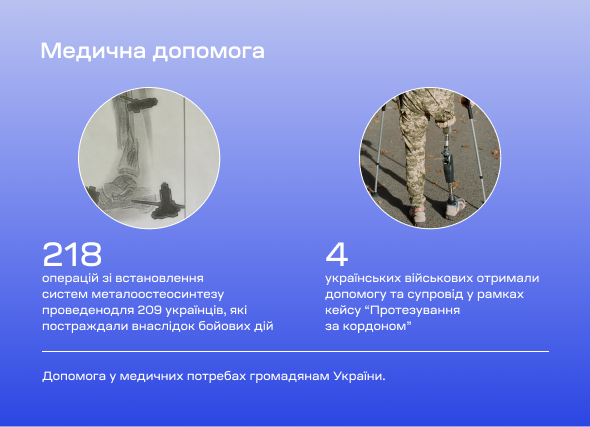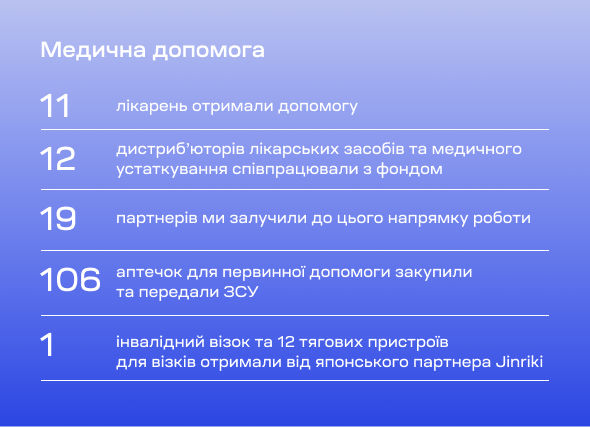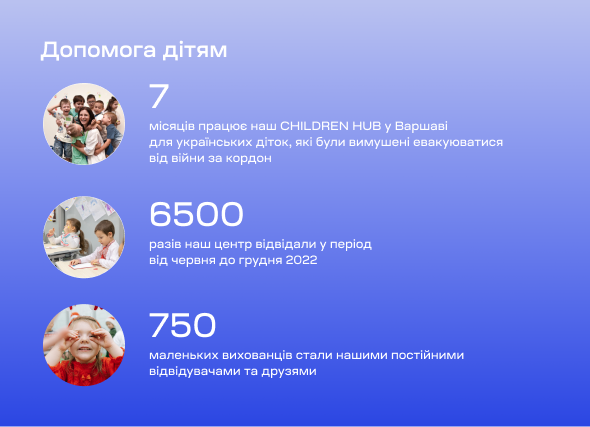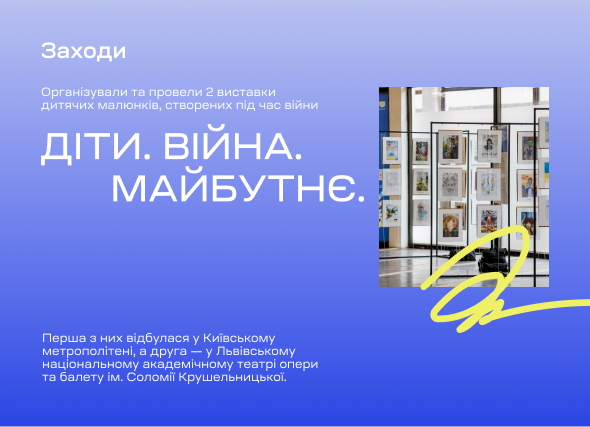 Humanitarian help
On June 24, the Humanitarian Headquarters of the FFU became operational.
More than 3,000 humanitarian kits were issued to Ukrainians in need of assistance.
More than 25 tons of humanitarian aid was given to Ukrainians affected by the war.
More than 20 organizations received assistance. Among them are orphanages, hospitals, and military units.
FFU volunteers visited 4 regions of Ukraine during independent and partner humanitarian missions. In particular, to the Kharkiv region after its liberation, the indomitable Mykolayiv and the villages of Donetsk region, located 10 km from the front line, and to the unconquered Kherson region, which suffers from enemy shelling every day. We are making new routes to help Ukrainians every month.
Medical direction
218 operations to install metal-osteosynthesis systems were performed for 209 Ukrainians who have been injuried due to warfare within the "Metal-osteosynthesis" case.
4 Ukrainian military personnel with complex amputations were helped to go through the prosthetics and rehabilitation processes at the MCOP clinic in Washington as the framework of the "Military Prosthetics" case.
11 hospitals received the necessary medical equipment and medicines.
12 distributors of medicines and medical equipment cooperated with the foundation.
19 partners were involved in this direction of work.
106 first aid kits were purchased and handed over to the Armed Forces.
1 wheelchair and 12 wheelchair traction devices were received from the Japanese partner Jinriki.
Help for children
CHILDREN HUB was founded in Warsaw for Ukrainian children who were forced to evacuate from the war abroad. During the period from June to December 2022, the hub was visited 6,500 times. 750 kids became regular visitors and friends of the hub.
255 children received psychological counseling.
230 kids received speech therapy consultations.
50 Ukrainian mothers received consultations with a psychologist.
10 psychological trainings conducted at CHILDREN HUB.
In Lviv, work is underway to create the LEVCHYK SPECTRUM HUB for children with autism disorders who left the war zone. These children need special attention because, without regular and qualified help, children with ASD lose all the progress they have made.
Events
FFU organized and held 2 exhibitions with children's drawings created during the war, "CHILDREN. WAR. FUTURE." The first was in the Kyiv Metro, and the second was in the Lviv National Academic Theater of Opera and Ballet, named after Solomiya Krushelnytska.
In honor of International Day for the Protection of Children, actions were in four large cities: London, Paris, New York, and Berlin.
However, not one of these initiatives wouldn't have been implemented without the support of our partners, volunteers, and donors. Thanks to everyone! You are the creators of the future of a free Ukraine! Special thanks to our unchanged patron who supports our projects — Vadym Stolar.