Visit to Kyiv by Mike Corcoran and Bill Endicott, partners of the Operation Renew Prosthetics program, to Kyiv
10.05.2023
This week, our friends and permanent partners within the Operation Renew Prosthetics program came to Kyiv — Mike Corcoran, co-founder of MCOP, and Bill Endicott, former assistant to Bill Clinton, head of the Ukrainian military prosthetics program in the United States.
The purpose of their visit was to discuss plans and the possibility of exchanging unique experiences in prosthetics between American and Ukrainian colleagues. For Ukrainian prosthetists, the expertise of American specialists is very important because they have many years of experience in prosthetics of soldiers who lost limbs in the wars in Afghanistan and Iraq. For 17 years, MCOP has been the official partner of the US Department of Defense for military prosthetics.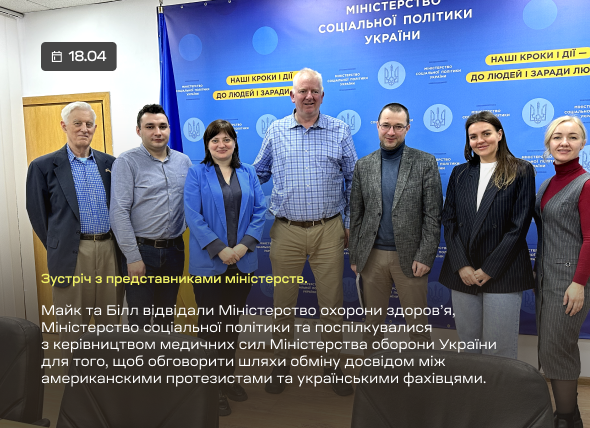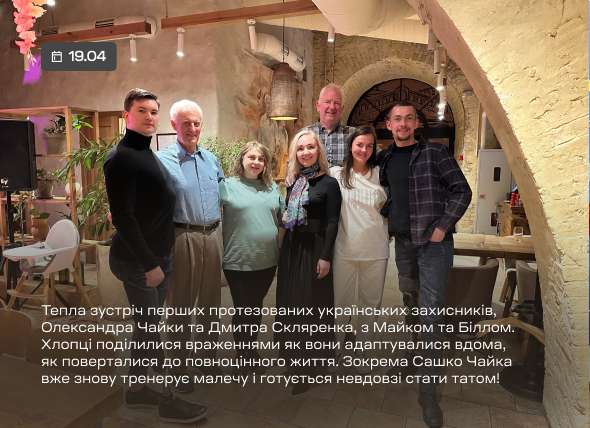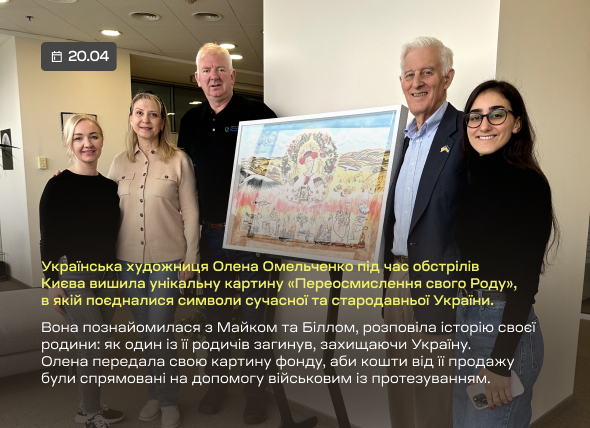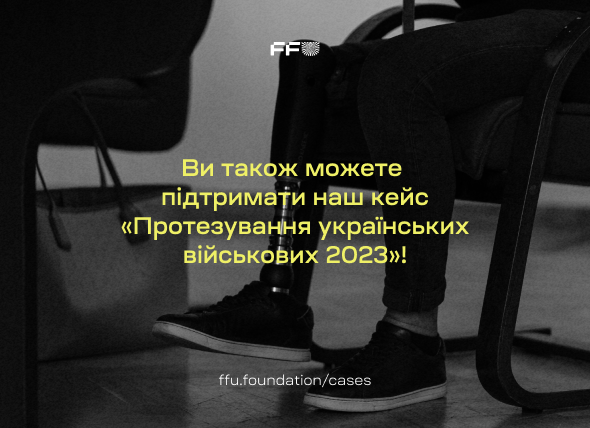 On April 18, Mike and Bill visited the Ministry of Health, and the Ministry of Social Policy and met with the leadership of the Ministry of Defense Medical Forces of Ukraine to discuss ways to exchange experience between American prosthetists and Ukrainian specialists.
The next day there was a warm meeting of the first prosthetic Ukrainian defenders, Oleksandr Chaika and Dmytro Sklyarenko, with Mike and Bill. The men shared their impressions of how they adapted at home, and how they returned to full-fledged life. In particular, Sashko Chaika is already coaching children again and is preparing to become a father soon! Mike, in turn, helped the military adjust their bionic prostheses and, with the help of a special mobile application, made all the necessary changes to the operation of the prostheses.
On April 20, Mike and Bill met the Ukrainian artist Olena Omelchenko, who embroidered a unique painting, "Rethinking Your Kind", during the shelling of Kyiv. The symbols of modern and ancient Ukraine are combined in this picture. Olena talked to Mike and Bill and told her family story: how one of her relatives died defending Ukraine. She also donated her painting to the foundation so that the proceeds from the sale were directed to helping military personnel with prosthetics.
We sincerely hope for fruitful joint work because only together we can do our best to thank our defenders! Mike Corcoran and Bill Endicott, thanks for visiting Ukraine! After all, such wonderful events give hope and motivation to work harder and do even more good deeds. Thus, that each of our defenders knows that he is taken care of!
You can also support our "Prosthetics of the Ukrainian military 2023" case!